FOUR FINGERS AND THIRTEEN TOES – Back in Time – with or without tinted spectacles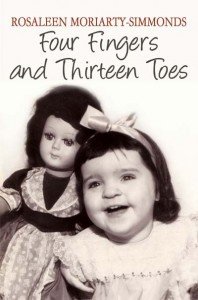 I don't know if it's me … but everything seems to have gone retro these days.   In the long gone days of when I was a kid, my Mum and Nanna used to say that fashions and trends would always come back again – And sure enough they have.
Brightly coloured and/or flowered wallpaper adorn the walls of recently decorated houses, smoked glass tables (occasional and dining) are back in vogue, and even extreme colours on cars (like canary yellow and fluorescent pink) grace the car parks of many shopping malls the length of the country.
But it is the recent upsurge in television programmes that revel in retro that has really caught my eye over the last couple of months.
Readers of my blogs will remember that Steve and I have almost polar opposite tastes in TV – that can sometimes lead to a clash of the titans (the result of which, is mostly a win for me!) but sometimes even Steve can happen on little gems that ignite a light of nostalgia which is prevalent in most of us. I am talking specifically of the "Back in Time" series of programmes recently aired on BBC2. Back in Time for Dinner; Back in Time for Christmas and more recently Back in Time for the Weekend.   Hosted by Giles Coren (journalist and restaurant critic) who appears to revel in all things nostalgic, the format of the programme is to take a suburban family back in time, to experience life from a completely different angle to the one with which they are familiar.
We first became hooked to the programme during last year, when a family were transported back to yesteryear to sample the culinary delights of generations gone by. This was followed up with a couple of programmes at Christmas, which took the family through generational changes associated with Christmas. Finally, the most recent series took a family through austerity and aspiration connected with family life and leisure pursuits.
We watched agog at how Christmas dinner has evolved over seventy years into a massive food-fest; how the generation of 1960's kids growing up in the 1970's, saw a boom in the present fest that has now become Christmas morning; and how leisure time has changed beyond all recognition from a day trip to the seaside transcending into varying levels of outdoor adventure or sunshine holidays in exotic locations … and not a holiday camp in sight.
However, the biggest shock was how much we could remember of the items and life-styles that were tested, and so I would like to take you back in time through the eyes of the Moriarty-Simmonds household.
Now, I should make it clear, that I can't go back much before the mid-sixties, but I think that's a good starting point.
So let's start by having a reminisce about holidays.
Like lots of Thalidomide children, a lot of time was spent in hospital, and so to go on holiday with the family was a real treat. I can remember one of our very first trips to Ireland – way before the passenger car ferries of today. Back in the day, we would pull up on the quayside, get out of the car, board as passengers, and watch as the car was loaded by crane into the hold of the ship along with all the other freight that had to cross the Irish Sea. As you can imagine, the journey was not pleasant. We sat on benches on the boat, and didn't move – firstly because there was nothing to move about for; but more especially as the Irish sea was never very kind to travellers, seasickness was exacerbated by the slightest of movement … I think you get my drift.
Our destinations during these trips were to Aunty's and Uncle's dotted around Ireland; and watching cows being milked and tricking sisters and cousins into going out, early in the morning, to pick mushrooms (that had been carefully and surreptitiously "planted" before sunrise). Overcrowding was never an issue, and any available space in the house was used to either put up a bed, or set up mattresses for the duration of our stay. What I remember most, is the warm welcome that awaited us, wherever we went – after a long journey through the winding Irish roads, that have only marginally improved in the years that have passed.
As we got a bit older, the Holiday camp holiday was in fashion. Pontins at Brean Sand, Weston-super-Mare was the usual choice. Not too far from Cardiff, so not a major problem with car sickness, but the distance was enough to say you'd crossed the Seven Bridge, and you'd gone on holiday in England. It was good fun. Lots to entertain the youngsters in the family, who were either in or just about approaching teen years. Here, siblings could cut their teeth on the beauty pageant parades, or demonstrate an ability to star in fancy dress or talent contests. For those of you who know my sister Denise, just ask her to do her "Frank Spencer" impression next time you see her, or enquire as to her psychological fragility after being dressed as a teabag!
Not to be left out, I did the odd spot of singing. All Kinds of Everything by Dana, was my signature tune, but after a good night out in the ballroom, a few Irish ballads could also be heard … To be sure, too be sure!
We also tried our hand at camping. Mum and Dad, along with my Aunty Nancy and Uncle Tony, decided to buy family sized tent. It sounded like a good idea initially, but it was funny that whenever we had the tent it rained, and when the Delaney's went camping the sun positively split the trees. I remember after one particularly disastrous camping trip, where one of us slipped off our camping bed into damp grass; and we all spent a night drenched to the skin because the tent was leaking – that Dad bundled us all into the car, and on arriving back in Cardiff, called to Nancy's house where the tent was ceremonious deposited on the door step, with words (something like) you can have the **@@**@ tent!! That was the last of our adventures into the world of camping.
As we got older, we all started doing our own thing for holidays, and whilst independence was good fun, there was really no substitute for a holiday with Mum and Dad.
Back in time to Christmas now. I am fairly confident in saying that the "man-thing" of putting the fairy lights on a family Christmas tree, has lead to many a festive confrontation – not only in our house, but in every house up and down the country. The problem in our house was the method of putting the tree lights away at the end of the festive period. Twelfth night would come around, and it was always a mad scramble to get the decorations down. Consequently, unlike my OCD hubby, who insists that everything goes away so it comes out reasonably well the following year, my Dad followed the basic man-principle of take-down, roll in a ball, stuff in a box … and worry about it 12 months later. And yes, we did have to worry about it 12 months later. That hastily rolled ball of fairy lights seemed to manifest itself into a tangled web, that only the most intelligent of spiders could have woven. I may be wrong, but a little part of my memory recalls a bit of huffing, a lot of puffing, and then my Mum would take a trip to the Supermarket to get some new lights, on the promise that this time they would go away carefully … if only!
Of course, there is lot of be said for putting the decorations away carefully, and I shall recount you this story. Shortly after Steve and I got married, we took a trip to one of Steve's most hated haunts … A local wholesaler … Makro by name (and according to Steve … Makro-Yuck). Here, we bought our tree lights, and a really lovely carousel of six horses, which was accompanied by a small fairground organ, that churned out about eight tunes on loop. Over 25 years later, this small piece of "back in time" Christmas memorabilia comes out each year and looks as good as it did when it was bought. Pity about said hubby – but you can't have it all, can you?
Now to presents … When we were kids, these were things you longed for. Unlike today, where the concept of wait and see what happens, has completely gone out of the window, we loved the anticipation of presents. My most vivid back in time memory on this front, is of my sister, Debbie, and I waking on a Christmas morning, to find a full-sized swing in our bedroom. How Santa managed to magic it into our bedroom is still a mystery, but what fun we had – and it didn't matter if it was raining or snowing outside, we just had lots of fun.
One of the most striking things about the Back in Time TV programme that looked at presents, was the horrible and brittle plastic that the presents were made of. It only took a boisterous motion, and that cherished piece of plastic was in bits on the living room floor, and then you knew it would be ages before it got replaced. If you're like me, and your birthday falls at the end of the year, you will know what an agony that was. We had the usual array of dolls, and (of course) my most iconic doll, is the one that sits next to me on the front cover of my book. Sadly, like lots of childhood memorabilia, you forget just how precious something is, until you can't find it. I think that little lady in safely housed in one of the boxes in our attic, but I guess it will only be when we have another major spring clean that it will come to light again. However, little did anyone know how publicised would be that doll's presence on the world wide web, when I received it as a present – Come to think of it back in time then, we didn't even have the internet. Now, what would we do without those three little letters … "www" or that inimitable phrase "Google".
Returning to the series, we oohed and aahed over all the things of which Back in Time reminded us. Some cringeworthy (like the fashions) and some that gave a lovely warm glow when you remembered a time that lingers in the distant memory. However, when it came to gadgets, the one thing that Steve most reminisced about was Etch-a-Sketch. Apparently he loved his Etch-a-Sketch. Could that have something to do with OCD and his love of straight lines? Being reminded of just what he was missing, he promptly discovered a digital version, and now sits quietly playing Etch-a-Sketch on his iPad whilst I do what I'm best at doing, and that's watching TV which doesn't take me back in time. NOTE: Breaking news … I've been told that with the digital Etch-a Sketch version can do curves as well as straight lines – That's progress for you!
We often chat with family and friends about times past, and I have no doubt that further generations will do likewise. I wonder if James will tell his kids about falling into the swimming pool whilst on holiday, but surfaced clutching his ice-lolly like the Statue of Liberty, or when, during primary school sports days, he would stop and fold his clothes – rather than run for the finishing line! Will he spill the beans about how his father parked a wheelchair on his toes, and continued talking to one of my PA's … rendering the poor child speechless; will he be able to remember when he met Fireman Sam's boss – who just happened to a very senior fire officer from Scotland, and organised a trip to the Cardiff Fire Station to see Sam slide down the Fireman's Pole. And, will he remember asking a former senior Executive of a Charity, with which we have an association (and a former member of the RAF), whether he had flown airplanes in the second world war. I hasten to add the gentleman in question wasn't even born until after the war! Just some of those cringeworthy memories that will doubtless crop up in the future when we do our own family version of Back in Time.
And so it's time for me to jump (metaphorically speaking of course) into my De Lorean supercar and come back to the future – or at least 2016. At the start of the summer, as we all start to plan our traditional summer holidays, and then in September start to think about Christmas (or in August – if you shop in Walmart or Asda!) spare a thought for the two lovely suburban families who went back in time for our pleasure. The lessons which they learned from their experiences will stand them in good stead to enjoy the future, having a better understanding of the past.
With or without tinted spectacles, looking back is fun. Looking forward is far more daunting, as we don't know what to expect until we get there, and even then, it's up to us to make the best of what we have.
I hope this brief trip back in Moriarty-Simmonds time, has spurred you onto going back in your own time. Some things you'll remember with pride, some things with not so much pride; but one thing is for certain you'll have a laugh along the way, and might even rediscover hidden gems of family treasure that will have you craving for more.
Can't wait for the next series … Wherever it goes and whatever it covers, I'm sure it will be interesting, informative and thought-provoking … Just like my Blogs!