Media
Television
Rosie's first television experience was in a news bulletin about Thalidomide when she was just 2 years old.  She has, since that time, been the subject of several television and radio documentaries.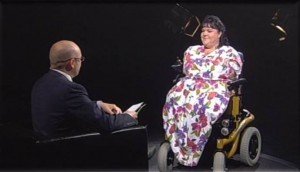 Freelancing on TV and Radio, Rosie has worked on various projects covering human interest and the politics of disability with
BBC 1
BBC 2W
Sky TV
ITV Wales
The ITV Wales programme entitled "One in Six, was awarded first prize in the education category at the 2004 Celtic Film Festival.
Rosie has also guest presented for BBC Wales during the 2008 Royal Welsh Show – one of Europe's premier agricultural and country shows.
During 2017 Rosie featured in three documentaries including 'Wales in the 1990s' and 'Call The Midwife: The Casebook'
Radio
In the early 1990's Rosie volunteered at the Contact Trust, an organisation enabling unemployed and disabled people to gain media experience.  From this platform, she broadcast a weekly disability issues programme on the commercial Red Dragon Touch AM radio stations.
Rosie's radio presenting has included:
Time with Able Radio, broadcasting online content to a worldwide audience.
A documentary series for BBC Radio Wales to mark the 50th anniversary of the introduction of Thalidomide onto the British and Commonwealth markets.
A BBC Radio Wales commissioned series of four radio programmes entitled "Rosie's World". This series allowed Rosie to explore attitudes towards disability, taking in a whole range of topics including work, relationships and education.
Rosie can also be heard regularly on BBC Radio Wales daytime and early evening news, entertainment and current affairs programmes offering views and opinions on a range of topical and interesting subjects.