Services
ART
Rosie is currently a student member of the Mouth and Foot Painting Artists Association (MFPA), with a unique painting style incorporating bright, bold and vibrant colours – whether in portraiture, abstract or landscape work.
Commissions accepted subject to our terms and conditions.
Membership of the MFPA involves promoting mouth and foot painting through practical demonstrations and exhibitions.
For more information on the work of the MFPA please visit: http://www.mfpa.uk/the-artists/rosaleen-moriarty-simmonds/
INSPIRATIONAL and CONFERENCE SPEAKING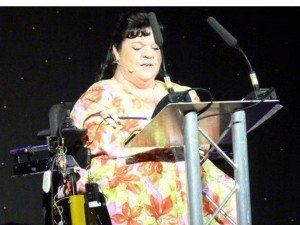 Presentations which are humbling and inspiring, revealing and entertaining.
Challenging the stereotypical view of disability.
Give honest accounts of life as a disabled child of the 1960's with anecdotes that will make the audience laugh and cry, be angry and proud.
An unparalleled knowledge of Thalidomide that will inform and surprise.
Ultimately promoting a greater understanding of life as a disabled person.
MEDIA
Promoting full inclusion of disabled people in the media.
Expert knowledge of disability issues.
Areas of interest … Current Affairs, Social Awareness, Politics, Comedy, Family, Education, Parenting, Employment, Travel, The Arts & Theatre (to name but a few).
Presentation style … positive, informative and entertaining.