Children and Disability
Rosie has often observed that children are unashamedly forthright when it comes to matters of disability.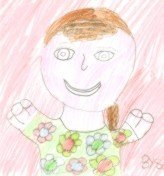 From Rainbows and Brownies, through to Primary School Reception classes and onto teenagers in High School, Rosie has tackled the compelling issues of "how do you brush your hair" "who helps you in the house" "how do you get from your wheelchair into bed" and even "how do you pick your nose!"
Children and young people are very perceptive, and receptive to new ideas, as they come with none of the prejudice that is often found with adults.
Rosie has a simple philosophy.  "Tell it how it is" and then the difference between a disabled or non-disabled person holds no taboo.

For children, there is no issue that cannot be resolved without a simple answer, and their instinctive ability to portray things as they see them is evidenced in the drawings shown on this page, and prepared by members of a local Brownie group.
Senior School students can also be incredibly keen to embrace the promotion of equality, as evidenced in the example of Cardiff High School.
CARDIFF HIGH SCHOOL
With Rosie's help students at Cardiff High School developed a Disability INSET course for Teaching Staff and Governors … A first for staff and Governors at the school.
Working with the schools' Disability and Equality team she also helped build an initial Disability Scheme for the school to implement its obligations under disability and equality legislation.
A "Walking Through Walls" competition was the back bone of a display at the National Assembly Senedd in Cardiff on 3rd December 2008.  This was the first Assembly sponsored event to mark the internationally recognised annual day of Disabled People.  The event culminated in a presentation by a number of students to an audience of more than 100 people (including Assembly Members and the then Assembly Presiding Officer – Lord Ellis Thomas) entitled 'Young Lives, Equality Lives'.
The work goes on … but our thoughts are:
We believe that as the children of today are the adults of tomorrow, shaping positive ideas of disability will do much to help the cause of disability equality in the future.