Inspirational and Conference Speaking
Rosie's presentations and speeches both humble and inspire conference delegates and event audiences; as she talks with authority, in genuinely engaging, revealing and entertaining style.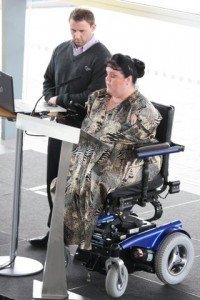 Rosie talks with passion on managing change, social responsibility, and the benefits of diversity, equality and inclusion. She challenges misconceptions of disability, by talking about overcoming adversity and her love of art. Rosie is able to respond to her audience with anecdotes about her early years and her life generally; addressing discrimination, education, life-skills and turning adversity into an opportunity.
With her extensive knowledge of Thalidomide, Rosie is realistic and unbiased on the impact that Thalidomide has had on attitudes to disability; and how its rehabilitation (as a now widely manufactured drug) has been greeted by those directly affected by the original 1960's tragedy.
In tailoring her presentations to the target market, corporate and public audiences or local community groups will be assured of an entertaining and informative address that will promote a greater understanding of life as a disabled person.
Rosie is friendly, persuasive, humorous, informed, approachable and inspiring; with the success of her autobiography Four Fingers and Thirteen Toes, further demonstrating the public's genuine and enduring respect for a true role model.