An Open Studio Exhibition of her Artwork in support of CRY
21 . 08 . 14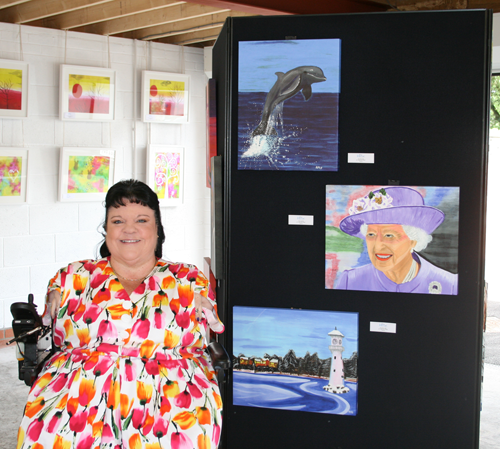 Cardiff based mouth painting artist Rosie Moriarty-Simmonds, was available to talk informally to visitors about the exhibition; the MFPA generally; the techniques she uses to create her work: and for visitors to learn more about Rosie's life which has been chronicled in her autobiography – Four Fingers and Thirteen Toes.
WHEN:
The exhibition ran from 16th – 17th August 2014
Open daily – 11am – 4pm
WHERE:
In her garage! Now quaintly called the 'Garudio'
WHY:
As a result of the successful MFPA exhibition staged at Cardiff's Norwegian Church in May, this Open Studio event was an opportunity for the public to see more of Rosie's own work.  With a smaller informal venue, more people viewed and enjoyed the unique style of work that Rosie produces.
ADMISSION:
Free Admission – But donations to the "Remembering Owen" cause were welcomed to raise money for CRY
PRINTS AVAILABLE TO PURCHASE
With £1 from every painting or copy of Four Fingers and Thirteen Toes sold, being donated to CRY
ABOUT ROSALEEN:
Disabled Businesswoman Happy Wife, Adoring Mum, Author, Media Presenter, Actor and Artist – constantly busy and totally content – Learn more at https://www.rms-consultancy.co.uk/
ABOUT "REMEMBERING OWEN" AND CRY
'Remembering Owen' is a group set up by the family and friends of Owen Morris who was 13 years old when he died on 3 September 2013 following his collapse whilst training with Llanishen RFC's U14 squad at training the previous evening.  Owen died of a heart attack and was, until his collapse, an otherwise healthy active boy with a keen interest in sport.
Remembering Owen aims to raise funds for CRY (Cardiac Risk in the Young) a registered charity (number 1050845) to support the research work into the causes of sudden death in young people, provide heart screening and much needed bereavement support and counselling.  More information on the work of CRY can be found at http://www.c-r-y.org.uk/index.htm
I am pleased to report that close to 100 people visited the exhibition over the two days!!  With the generosity of all visitors to the exhibition, a cheque for £174.85 was sent to CRY this week. £44.00 came from Rosie's contribution from sales of art and books, with the balance coming from CRY collection box donations.