Community hero to take part in civic events
14 . 07 . 12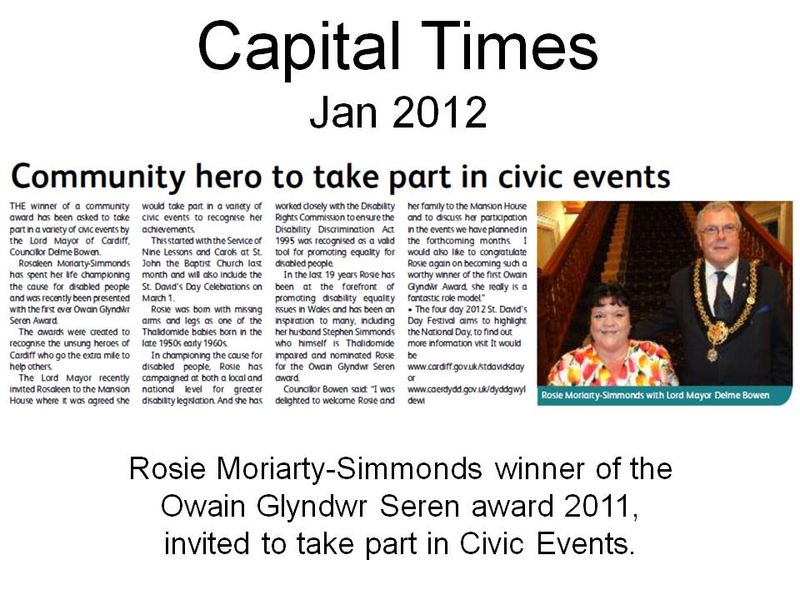 Cardiff Council Issue 133 January 2012
NEWS
www.cardiff.gov.uk
A Proud Capital
www.twitter.com/cardiffcouncil
Community hero to take part in civic events
THE winner of a community award has been asked to take part in a variety of civic events by the Lord mayor of Cardiff, Councillor Delme Bowen.
Rosaleen Moriarty-Simmonds has spent her life championing the cause for disabled people and was recently been presented with the first ever Owain Glyndŵr Seren Award.
The awards were created to recognise the unsung heroes of Cardiff who go the extra mile to help others.
The Lord mayor recently invited Rosaleen to the Mansion House where it was agreed she would take part in a variety of civic events to recognise her
achievements.
This started with the Service of nine Lessons and Carols at St. John the Baptist Church last month and will also include the St. David's Day Celebrations on
march 1.
Rosie was born with missing arms and legs as one of the Thalidomide babies born in the late 1950s early 1960s.
In championing the cause for disabled people, Rosie has campaigned at both a local and national level for greater disability legislation. And she has worked closely with the Disability Rights Commission to ensure the Disability Discrimination Act 1995 was recognised as a valid tool for promoting equality for disabled people.
In the last 19 years Rosie has been at the forefront of promoting disability equality
issues in Wales and has been an inspiration to many, including her husband Stephen Simmonds who himself is Thalidomide impaired and nominated Rosie for the Owain Glyndwr Seren Award.
Councillor Bowen said: "I was delighted to welcome Rosie and her family to the Mansion House and to discuss her participation in the events we have planned in
the forthcoming months. I would also like to congratulate Rosie again on becoming such a worthy winner of the first Owain Glyndŵr Award, she really is a fantastic role model."
• The four day 2012 St. David's Day Festival aims to highlight the national Day, to find out more information visit  www.cardiff.gov.uk/stdavidsday
or  www.caerdydd.gov.uk/dyddgwyldewi